Gorilla trekking 2022 – Uganda Gorilla permits 2022
Gorilla trekking 2022 is one of the great primate tracking activities and having to plane for the best time or your favorable time is important. Uganda gorilla permits 2022 are at USD 700, USD 600, and UGX 250,000 for foreign nonresidents, foreign residents, and East African nationals respectively. Gorilla trekking in Uganda is such a star activity as many tourists pride themselves on completing it. To have a gorilla trekking experience in 2022, one must be well prepared, and here are the key tips on what you need for gorilla trekking in Uganda.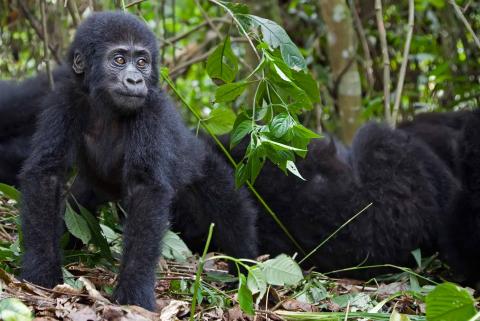 Uganda Gorilla permits 2022
The only assurance for you to trek mountain gorillas in Uganda is by purchasing a gorilla trekking permit. A gorilla permit is a document or card issued by the Uganda Wildlife Authority to permit a tourist to have a gorilla trek within the parks of either Bwindi Impenetrable National Park or Mgahinga Gorilla National Park. The permit should be fully booked before you plan to come to your gorilla trek.
A Uganda gorilla trekking permit cost varies for the different categories of travelers that are foreign nonresidents (FNR), Foreign Residents (FR), and East African Residents.
Foreign nonresidents refer to tourists who are not Ugandans and visiting from other countries for Uganda gorilla safaris. Foreign non-residents require US$ 700 to purchase a Uganda gorilla permit.
Foreign residents refer to foreigners who live in Uganda and have a working permit or any other identification as residents of Uganda. Foreign residents will require US$ 600 to buy a Uganda gorilla permit.
East African citizens refer to the people of the East African community countries. East African Residents purchase a gorilla permit at Ugandan shillings 250,000.
What to carry for gorilla trekking 2022
For a successful and safe gorilla trekking experience, cross-check your packing list and ensure that these are included.
Face mask: Pack a medically recommended face mask to wear during your trip as it is a measure to curb the widespread of the novel coronavirus. Mountain gorillas are susceptible to these diseases and therefore they should be kept safe and protected from them.
Long-sleeved shirts and trousers. Since you are going to walk in the jungle where insects can give nasty bites, wearing long-sleeved shirts and trousers is recommendable. Wear shirts, long enough to cover your hands to the wrist and trousers long enough to be tucked into your stocking. Shorts and vests are not anything to think of when planning to go gorilla trekking. The long clothing should also be comfortable and thick with colors that can't get stained easily.
Hiking shoes. Since you are going to take challenging hiking to an altitude that is raised over 2,000 meters above sea level, you will require sturdy hiking shoes. Ensure to have comfortable sure such that hiking is made easy and you don't get bruises.
Rain jacket. Whether it's in the rainy season or in the dry season, you need to pack and wear a rain jacket during gorilla trekking. The southwestern part of the country where the gorilla safari parks of Bwindi Impenetrable National Park and Mgahinga Gorilla National Park experience colder and rain can be expected at any time of the year. A rain jacket will protect you from rain and drizzles.
Hand gloves/gardening gloves. Since you will have your body covered, your hands will too need protection. You will need to wear hand gloves to protect your hands from thorns as you hike. In case you slide and would like to have a firm grip on a tree or any kind of plant,  you need to make sure your hands are safe. Wear hand gloves for protection.
Best time to go gorilla trekking in Uganda 2022
The best time of the year for Uganda gorilla trekking is supposed during the dry season. There are two dry seasons which are the short and long dry seasons. The long dry season is between the months of June –August and the short dry season is between December –February. These two seasons have fewer rains and are generally good for almost all Uganda safari activities.
When planning to have an African safari, gorilla trekking should top your bucket list as it is such a wonderful experience. These tips also apply to other primate tracking safaris as the experience is similar.
Related Searches
3 Days Gorilla Trek Mgahinga Uganda
3 Days Gorilla Trek Rwanda – Volcanoes
4 Days Gorilla Safari Uganda – Bwindi Forest
1 Day Gorilla Trek Rwanda – Volcanoes
Mountain Gorilla Related Searches in East Africa
Gorilla Tracking in Uganda – Bwindi
Gorilla Trekking Tours in Rwanda
Gorilla Tracking Safaris in Bwindi – Uganda
Short Uganda Gorilla Tracking in Uganda
Long Gorilla Tracking Safaris in Uganda
Mgahinga gorilla safari Uganda
Is Gorilla Tracking in Uganda Safe
Is gorilla trekking in Rwanda Safe
How much is gorilla tracking in Uganda
How much is gorilla trekking in Rwanda
Gorilla Tracking Permit in Uganda
Where to see mountain gorillas in Africa?
Where to go for gorilla trekking in East Africa
Where to go for gorilla tracking in Uganda